Viennese confectionary as stage for dirndl-dresses with extraordinary prints like sushi rolling cats or pin-ups Designer Gabriela Urabl was inspired by the meeting of cultures...

Vienna Insight: Culinary, arts & crafts, and cosmetics at the weekend market 'Markterei' Fashionoffice visited Markterei's special edition 'Marketerei plus Design!'...

Culinary & cycling 'Tour d'Autriche' 2017 Austria.info published a new collection of cycling tours in 9 chapters after the country's nine provinces. Urban, mountain, lake routes...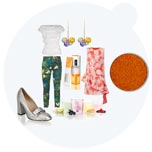 Fashionoffice SS2017 tip: Juicy Style The 'Juicy Style' is inspired by this year's floral fashion prints and derives its name from high-tech beverages, cosmetics and digitally...

Fashionoffice Mother's Day tip: cooking spoon made from wood of wine barrels of prominent Austrian wineries The idea of recycling the wood of wine barrels for spoons...

Culinary hacker Carolin Schulze's 3D printed fake bunny at 'Food Revolution 5.0' at MKG Hamburg Carolin Schulze's fake bunny from a 3D printer is one of the artworks...