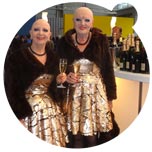 Eva & Adele at Viennafair
"At the Moët & Chandon champagne bar, I changed some words with the glamorous artists Eva & Adele. I was impressed by their outfit..."

Vienna Insight by Karin Sawetz, publisher Fashionoffice
9 October 2013
Reflections about today's culture, glitzy glam, and textile art with digital message
Today, I attended the preview of Viennafair which provides until 13 October insights into contemporary art from Central, Eastern and South-Eastern Europe at the Messe Wien in Vienna.
fig.: The first person I met was artistic director Christina Steinbrecher-Pfandt. We walked together through the hall where galleries are presenting new works such as the giant sculpture 'Tony To Go' by artist Donatas Jankauskas who was inspired by the character Tony Soprano from the TV-series 'The Sopranos' and uses as work description keywords like brutality, aggression and subconsciousness. The site-specific installation is a tribute to Vienna and is curated by Kestutis Kuizinas from the Contemporary Art Centre Vilnius. Alongside to artworks, the huge hall of Messe Wien hosts booths of institutions which are initiating during the next days art related discussions such as the talk 'Strong Women in Art' supported by OMV's project 'DIYALOG: New Energies'.
Some would say it is better to have a strategy for exploring the hall - I had none but a glitzy golden sparkling light that brought me to a comfortable corner where Moët & Chandon installed a champagne bar.
fig. below, left: At the bar, I changed some words with the glamorous artists Eva & Adele. I was impressed by their outfit: they combined champagne alike sparkling sequin dresses with golden shoes and furry jackets and bags. Eva & Adele gave me a card which shows one of their artworks ('Tides 18'). The painting was recently exhibited at the show 'The Perilous Night' at the Gallery Nicole Gnesa in Munich.

I continued my exploration and landed at the booth of Viennese Gallery Steinek with Gudrun Kampl's thrilling artworks made from velvet in deep red - a tone like blood.
fig. right: The image shows artist Gudrun Kampl in front of one of her tapestries unveiling the hidden QR code which is placed in the middle. She told me that it took her several months to finish her textile story which contains elements of love (the carpet is framed by hearts), sex (copulating creatures) and the mysterious QR code message.