Fashionoffice SS2017 tip: Mother & Child street style
For walking with children through the city, Bike Vienna and Scooter Vienna sent tips for motivating kids to start...

Bayern Munich midfielder Xabi Alonso's insights into his daily routine for Porsche Design Sport by adidas ...running, drinking coffee with his wife actress Nagore Aranburu...

Fashionoffice Spring/Summer 2017 tips for urban bikers
A favor of bikes in the design of a scooter - whether driven by electro battery or fuel tank, is that shoes keep clean...

Electric cars Citroën 'C-Zero' for emov service in Madrid
The car-sharing service emov is part of the sustainable urban mobility policy of Madrid. Digital technology for urban mobility...

The esthetics of a retro-futuristic world applied to the new 'Ducati Diavel Diesel' motorbike Diesel and Ducati premiered the new bike 'Diavel' as a synergy of fashion and...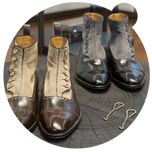 Collezione Automobili Lamborghini's special editions of shoes and clothing spread the 'Made in Italy' spirit Men's, women's wear by Hettabretz, footwear by Enzo Bonafè...