Keywords
that bring users by search to Fashionoffice:
(Google Analytics 29 June - 29 July 2010)
fashion.at and fashionoffice.org
fashion
trend forecast 2011
office fashion
europe fashion
film noir fashion
chanel
fashion office
frauen
fashion america
drew sidora
beautyme.com
beautyme
vichy
michael la delle
wella
guerlain
creative make up
make up natural
www.beautyme.com
50's makeup
beauty me
confashion.com
pierre garroudi
confashion.com
lie sang bong
bikini girls foto
con fashion
georges chakra
confashion
contemporary man
paolo simi
carlos diez diez jockey by cooper

FASHIONOFFICE INSIGHT
by publisher Karin Sawetz August 2010
Karin Sawetz is journalist, media researcher
and fashion scientist (Mag. Dr. phil.).



From postcards to tweets


Tweets are used like postcards as media for short messages.
But postcards are different to tweets: they transport mostly a provincial Kitsch-view on a - in principle - beautiful holiday place and the cards' messages are centring on the place from where they are sent, while tweets are leading with text & link-only posts to interesting new places, somewhere else in the internet than on the platform from where they are sent.
Both have one in common: they are written in the consciousness that a wider public can read it. This makes the texts on Twitter as 'harmless' for the privacy of the sender and recipient like postcard-writings. Fashionoffice has installed Twitter-realtime results to the search keywords 'Fashion Week Swim Miami' on the cover of the magazine. The realtime results were used for the article Swim Style.
The ones who had been on Holiday through July and haven't got news from Fashionoffice can find them in chronological order in the directory Trendletter.
With the first Trendletter in August, the series about makeup and beauty themes will be continued with articles like...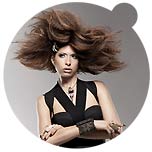 This girl needs no wings to fly! The photo shows fashion scene darling jewellery designer Pamela Love in a rocking biker style with a 'Zero Gravity'-hairstyle. Recently, she has illustrated Sebastian's bottles of hair spray with mystical symbols in Egyptian ethno style...

Naked couturiers On Juergen Teller's photo, Marc Jacobs is lying naked on a bed with metal covering, holding a mega bottle of his new fragrance 'Bang'...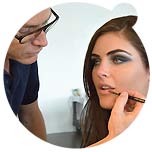 Colors 2010/11 by makeup artists ...like Estée Lauder Creative Director Tom Pecheux, Lancôme's Aaron De Mey, Burberry and some remarks to the history of communication...
etc.

Statistical data
Keywords, most viewed articles in July 2010
By collecting the monthly statistical data about the domains of the magazine, it becomes once again obviously that despite the daily production of new articles which are linked from the cover pages where most of the traffic happens, the archived editorial works are tracked as the most viewed articles during 29 June and 29 July 2010 on Fashionoffice.
To give you a better orientation how Fashionoffice's articles are found by users on search engines, the most important keywords from the domains fashionoffice.org, fashion.at, beautyme.com, and confashion.com are listed on this page above. Find out more about the Fabric of the Web.
Inventory
Fashionoffice has calculated the absolute numbers of the magazine's inventory in the next months with DoubleClick for Publishers: 'The Inventory of Fashionoffice'.
Articles viewed
in July 2010

The statistics of the different media Web, Mobile, and Feeds give an insight into user preferences. The Trendletter is not tracked by a statistical tool.
Ranking of the most viewed editorial pages between 29 June - 29 July 2010, data by Google Analytics (the bold fonts signify articles from the last 12 months; the others are from the respective month-year):

Fashionoffice server location The technics of Fashionoffice (fashionoffice.org, fashion.at, confashion.com, beautyme.com, styleradar.com, beautyradar.com, FashionAvigator.com, cytara.com) is outsourced to a US hosting provider with data centers in US, Massachusetts.

Web
Fashionoffice: fashion.at, beautyme.com, confashion.com
Mobile
fashion.at/mobile

/ss2006/jiwonree6-2006.htm
/ss2007/lenesecher5-2007.htm
/ss2007/puma3-2007.htm
/ss2008/ibm1-2008.htm
/ss2007/galati6-2007.htm
/ss2007/generalmotors6-2007.htm
/ss2007/garges6-2007.htm
/ss2007/venlai5-2007.htm
/ss2007/schweitzberger5-2007.htm
/ss2008/ritukumar10-2007.htm
/ss2007/philippplein4-2007.htm
/ss2007/inhorgenta4-2007.htm
/cosmetics/2008/makeupforever10-2008.htm
/collections/2009/infash9-2009.htm
/triumph/2006/winner11-2006.htm
/film/domino11-2005.htm
/fragrance/2010/womenstyle4-2010.htm
/culture/2008/chanel5-2008.htm
/fragrance/calvinklein10-2005.htm
/design/2010/womenstyle6-2010.htm

/beauty7-2010.php
/karinsawetz7-2010.php
/menstyle7-2010.php
/mercedesbenzmiami7-2010.php
/womenstyle7-2010.php
/womenstyle7-2010b.php
/makeup7-2010.php
/weather7-2010.php
/makeupfashion7-2010.php
/mac7-2010.php
/womenstyle6-2010.php
/globalview7-2010.php
/photojournalism7-2010.php
/marcjacobs7-2010.php
/sebastian7-2010.php
/thomassabo8-2009.php
/strellson11-2008.php
/twittersearchmen6-2010.php
/karinsawetz6-2010.php
/dicekayek12-2008.php
Ranking of the Fashion Feeds (from 29 June to 28 July; data delivered by Feedburner) after views and clicks.

FashionFeeds
http://feeds.feedburner.com/FashionFeeds
Short Message 29/6/2010 - Dance video f…
Dance video from a shoe label that is inspired by Hip Hop
Fashionoffice received an invitation from the Australian dance shoe label 'Bloch' to the presentation of the new spring/summer 2011 collection at Bread&Butter (7 to 9 July) in Berlin. Bloch was founded by the Russian shoe maker 'Jacob Bloch'. In the early 1930s he migrated to Sydney (Australia) and fell in love with a 'Prima Ballerina'. His aim was to create the most comfortable dance shoes for her. Today, Bloch is one of the leading dance shoe producers. The label delivers even everyday shoes such as ballet pumps with cushioned sole for the street. On this video you can see the New York dance formation and instructors 'AmountBoyz'. On their website www.antboogieworld.com, they announce the next dance workshop on 10 July in Chicago.

85
461

Short Message 29/6/2010 - Video from co…
Video from couturiers who have contributed a special creation to a Viennese summer ball
The video shows the FW2010/11 collection by the designer duo Talbot Runhof in Paris. The Munich based designers Johnny Talbot (born in US) and the German Adrian Runhof have created a special scarf for the summer ball 'Fête Impériale' on 10 July in the Spanish Riding School in Vienna. The ball is a mix of traditional Viennese ball culture with full length, elegant gowns and modern elements like music from 'Cross Over DJs'. The riding school is first mentioned in 1572. "During the 18th century Empress Maria Theresia staged elaborate festivities and celebrations in the Riding School – amongst them the so-called Ladies' Carrousels," introduces Managing Director Elisabeth Gürtler the Fête Imperiale; details on www.fete-imperiale.at.

89
387

Short Message 29/6/2010 - Workshop on s…
Workshop on sustainability, climate change, human rights and fashion
'earth.re.create' is the Graz (Austria) headquartered informal network of young creative heads - especially fashion designers. From 3 to 12 August 2010 they are organizing a workshop under the title 'Fashion and you change the world!'. The workshop runs in collaboration with other European countries like Spain or Sweden. Deadline for applications is 10 July. Find details on www.earthrecreate.com

90
360

11/7/2010 - Free music download and new…
11/7/2010 - Free music download and new video: 'Let The Record Go' from The Mynabirds
The Mynabirds are Laura Burhenn and her band; the video premiered on 9 July on Stereogum.com. Stereogum is a MP3 blog and online community for music news, downloads, videos. You can download the free single from the debut album 'What We Lose In The Fire We Gain In The Flood' on the musician's website www.themynabirds.com too; here you can find even the US tour dates for July to October. In an interview on Spinner.com, Laura Burhenn speaks about the band's name, which is inspired by a female figure from a novel by James Joyce.

86
305

17/7/2010 - Catwalk video Trina Turk sw…
17/7/2010 - Catwalk video Trina Turk swim/spa SS2011 at the Fashion Week Swim Miami
Find more news from the Fashion Week Swim Miami on the Twitter realtime results, installed on the cover of Fashionoffice.


64
293

14/7/2010 - Music video: afro-jazz, big…
14/7/2010 - Music video: afro-jazz, big band swing 'Morenike' by Siji from the album 'Adesiji'
The British born, now in New York living musician Siji sings about his (at this time fictional) daughter 'Morenike'. The video shows him on the way to collect the ingredients for a ceremony that visualizes the parents' hope for the child's good life. "Salt, Honey, Peppercorns, Water and Kola nuts, are used as symbolic gestures in prayer, so that the child's life may in turn be sweet, adventure filled, self sufficient, healthy and tasteful."


72
278
Short Message 28/6/2010 - Music video t…

64
194
20/7/2010 - People on Fashionoffice

56
195
Short Message 1/7/2010 - Video about an…
111
124
Short message 24/6/2010 - The iconic ha…
42
190
Short Message 23/6/2010 - Music video t…
40
190
Short Message 22/6/2010 - Music video t…
41
188
Short Message 17/6/2010 - Fashion tease…
38
189
Short Message 22/6/2010 - Music video t…
38
188
FASHIONOFFICE INSIGHT:
July 2010
June 2010
May 2010
April 2010
Mar 2010
Feb 2010
Jan 2010
Dec 2009
Nov 2009
Oct 2009
Sept 2009
Aug 2009
July 2009
June 2009
May 2009
Apr 2009
Mar 2009
Feb 2009
Jan 2009