Oct 2016 - IV: Jewelry. Men's Suits. Perfume.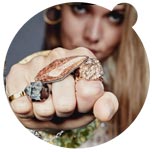 Viennese jewelry atelier StossImHimmel celebrates 20th anniversary with exhibition
'Stoss im Himmel' could be translated as 'kick to the sky'. On occasion of...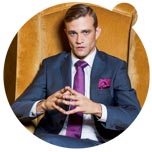 Actor Michael Steinocher - known from gangster & cop stories, in suits by Viennese tailor, retailer Sturm ...photographed by Stefan Joham at Hotel Park Hyatt in Vienna...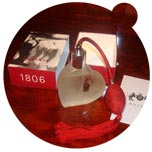 Artist Eva Petric's olfactory interpretation of the true love story once happened at Hotel Mount Lavinia, Sri Lanka The ingredients are inspired by Eva Petric's 'Periodic Table of..."...

Gigi Hadid stands in Reebok #PerfectNever movement campaign for combating negativity Gigi Hadid shares her thoughts about fitness: "Working out isn't only physical for me..."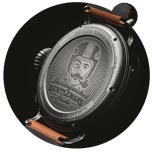 Zenith sponsors special watch in ton-up-boys, coffee racer style for best men's health fundraisers The special edition for the top fundraisers of the Distinguished Gentleman's Ride...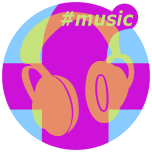 Top Ten Fashionoffice's FashionFeeds #music
Last 7 days: 'Greg's Love' ft Bootsy Collins by Seramic; Zeds Dead 'Too Young' ft Rivers Cuomo; 'Get Back' by Holy Ghost! frontman Alex Frankel;...

Last 30 days: 'Name On It' Shaed; Jim James 'Same Old Lie'; 'Go Robot' Red Hot Chili Peppers; 'River Man' Miten;...


Selected Fashionoffice's SHORT MESSAGES from the temporarily published FashionFeeds (items can be found at the magazine's permanent, chronological archive on fashion.at/mobile).
13 Oct 2016 - #Music DJ Shadow 'What Does Your Soul Look Like — Part 1 (Prince Paul Remix)'
13 Oct 2016 - Photographer Roe Ethridge's fashionable views on traveling
12 Oct 2016 - #Music Jlin remix of 'Wave' by Factory Floor; original track from LP '25 25' (out now)
12 Oct 2016 - #Music 'Illusion' by Aether (from 'Fresh Finds' playlist by Spotify's tastemakers)
11 Oct 2016 - #Music 'Stretch Your Eyes' by Agnes Obel; album 'Citizen of Glass' (21 Oct)
11 Oct 2016 - #Music 'Not Above Love' by Aluna George; album 'I Remember' (out now)
11 Oct 2016 - #Music 'Ordinary World' by Green Day; album 'Revolution Radio' (out now)
10 Oct 2016 - Great Big Story docu "Shredding Stereotypes with the Longboard Girls Crew"
10 Oct 2016 - 'Acclimatize' - Moderna Museet calls for ideas for future; keyword climate changes (picture, film, poem...)
9 Oct 2016 - #Music video 'Black Crow' by Beyond The Wizard's Sleeve; album 'The Soft Bounce' (out now)