Nov 2016 - VIII: Inventions.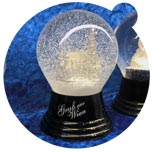 Vienna Insight into Christmas market at Stephansdom: The history of the design of snowglobes The snowglobes were invented by Erwin Perzy, a surgical instrument mechanic,...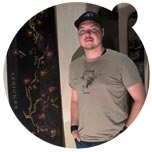 Legionaer presents snow and water sport boards made of patented carbon embroideries Legionaer founder Andreas Kisling had the idea while working on a jet ski...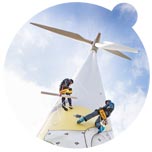 Artist Julia Bichler's flying figures visualize the power of nature for Middle-Europe's first official art-windmill The artwork was applied by the 'Skyworkers' in Vienna...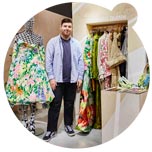 Innovative spirit for an ethical fashion industry Richard Quinn won H&M Design Award 2017 Richard Quinn graduated from Central Saint Martins and is focused on women's wear...

Culinary experts selected Babette's spice configurator competition winners: Cross Continent and... One of the jury members was gastronomy critic Florian Holzer...

Simon Costin's window installation for Swarovski in Vienna is contributed to fortune tellers, in Innsbruck to... The store window installations 'Sparkling Season'...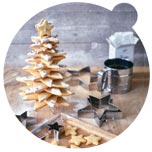 Fashionoffice X-Mas tip: cookies arranged as refillable star tree sculpture ...seen at the X-Mas collection by Depot. The Star Tree set can be re-used in the following years...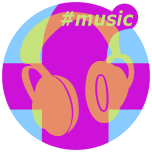 Top Ten Fashionoffice's FashionFeeds #music
Last 30 days: 'Highs and Lows' by Emeli Sandé; Tourist remix of 'Saint Claude' by Christine and the Queens; 'Anywhere' by Low Island;...

Last 7 days: 'Anywhere' by Low Island; 'Crave' by Pharrell Williams; 'Me and Your Mama' by Childish Gambino;...


Selected Fashionoffice's SHORT MESSAGES from the temporarily published FashionFeeds (items can be found at the magazine's permanent, chronological archive on fashion.at/mobile).
26 Nov 2016 - #TopOnFashionoffice last 7 days, 26 Nov: Simon Costin's window installation for Swarovski...
25 Nov 2016 - #Music 'Ride 'Em On Down' by The Rolling Stones, album 'Blue & Lonesome' (2 Dec)
25 Nov 2016 - #Music cover of 'Daddy Lessons' by Beyoncé and Dixie Chicks (original track on 'Lemonade' album)
25 Nov 2016 - #Music 'Stargirl Interlude' ft Lana Del Rey by The Weeknd, album 'Starboy' (released today)
23 Nov 2016 - #Music video by OK Go addresses 'The One Moment' when people inspire positive change, shows beauty of 4.2 sec
23 Nov 2016 - Film 'The Snow Guardian' by Day's Edge Productions (stories about science, nature, people,...)