Sept 2016 - VIII: Art in Vienna.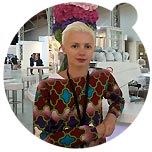 viennacontemporary: press talk, exhibition tour, interviews with directors and artists
Artistic Director Christina Steinbrecher-Pfandt is responsible for the content...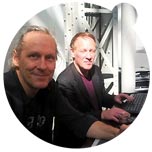 Public space sound architects 'Tonspur' ...at viennacontemporary at Marx Halle, Tonspur Artistic Director Georg Weckwerth and Sound Architect Peter Szely....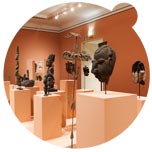 Influences of art from Africa and Oceania on early 20th century art movements
Until 9 January 2017, Leopold Museum presents art works by Pablo Picasso, Amedeo Modigliani,...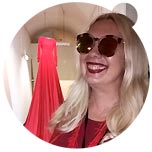 Insights Parallel Vienna (21 - 25 Sept): red dress about politics, up-cycled jeans,...
Artist Ona B.'s red dress references a political theme, the so called 'Velvet Revolution'...

Viennese jeweler Rozet & Fischmeister's brooch collection The items cover several decades without going out of fashion. The silver, gold 'Flower' brooch with sapphire...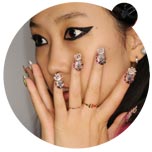 Nail art by CND for politically inspired Libertine SS17 The portrait of Libertine designer Johnson Hartig with crown on nails? Billboard and Hollywood Reporter's 'Pret-a-Reporter'...

Activists, actors, musicians in front of the camera of Jean-Paul Goude for Kenzo x H&M campaign Carol Lim and Humberto Leon, Creative Directors of Kenzo, at...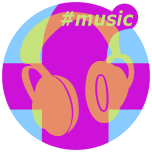 Top Ten Fashionoffice's FashionFeeds #music
Last 30 days: 'Go Robot' by Red Hot Chili Peppers; 'Name On It' by Shaed; 'Beautiful People' ft Thom Yorke by Mark Pritchard;...

Last 7 days: 'Randy' by Justice; Christine and the Queens' cover of Beyoncé's 'Sorry'; 'Run Ricky Run x Higher' by DJ Sliink;...


Selected Fashionoffice's SHORT MESSAGES from the temporarily published FashionFeeds (items can be found at the magazine's permanent, chronological archive on fashion.at/mobile).
24 Sept 2016 - #Music Cody ChesnuTT 'Bullets In The Streets And Blood' referencing gun violence in US
24 Sept 2016 - #TopOnFashionoffice last 7 days, 24 Sept: Insights Parallel Vienna: red dress about politics, up-cycled jeans...
23 Sept 2016 - #Music 'Can't You Tell' by How To Dress Well; album 'Care' (released today)
22 Sept 2016 - #Music 'Starboy' by The Weeknd with electronic dance music duo Daft Punk; album 'Starboy' (Nov)
22 Sept 2016 - #Music fashion video, FW16 campaign by Strellson; MNEK cover of Queen's 'Don't stop me now'