October 2017 - VIII: Fashion Party. Art Supermarket.

Diesel 'Go With The Flaw' party with influencers from music, sports and fashion in Vienna Rose May Alaba released recently a new dance music video; she told Fashionoffice...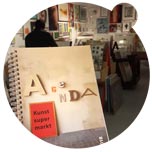 Vienna Insight: Shopping art at Kunstsupermarkt ...at Mariahilfer Strasse. The supermarket with a stock of more than 6000 artworks released the calendar 2018...

The design aspect of the work of carpenters The Austrian Guild of Carpenters publishes video portraits such as of Martin Lackner and his desk inspired by boat building technologies...

Pictures, video from the Erdem x H&M women's and men's wear show with partly gender neutral items in Los Angeles Kirsten Dunst appeared in Erdem x H&M suit...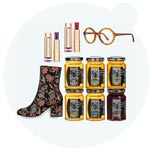 Autumn tip: Selection of fashion and beauty items inspired by the colors of wine jelly
One of the country's finest manufactories for filling natural products like fruits as jam,...

Fashionoffice Autumn17 tip: Wind & weather pirate style The wind and weather pirate is covered by a smoky rum-chocolate fragrance from 'The Contemporary Collection' by...

'Woman in Gold' by Kilian pays homage to Gustav Klimt's portrait of art patron Adele Bloch-Bauer The glamorously shining fragrance-time-travel premieres on...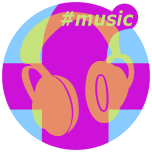 Top Ten Fashionoffice's FashionFeeds #music
Last 7 days: 'Soulmatic' album by Purple Disco Machine; SS18 fashion video 'Fergie x CR Fashion Book: REDRUM'; 'Little Dark Age' by MGMT;...

Last 30 days: 'Wall Of Glass' by Liam Gallagher; 'Crawl' by Joseph J. Jones; 'Carving Up the World Again...a wall and not a fence' by Robert Plant;...


Selected Fashionoffice's SHORT MESSAGES from the temporarily published FashionFeeds (items can be found at the magazine's permanent, chronological archive on fashion.at/mobile).
29 Oct 2017 - #Music Steve Ward Manipulation of 'Beat the Track' by Carl Cox, Nile Rodgers (out now)
28 Oct 2017 - #TopOnFashionoffice last 7 days, 28 Oct: Preview Wiener Schmucktage (Vienna Jewelry Days);...
27 Oct 2017 - #Music new song 'Taste' by Rhye (released today)
27 Oct 2017 - #Music 'Go As You Are' by Curtis Harding, album 'Face Your Fear' (released today)
25 Oct 2017 - #Music 'Always Ascending' by Franz Ferdinand, title track of the forthcoming album (9 Feb)