March 2017 - V: Textiles with Sensors.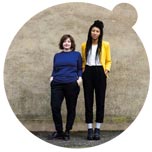 Interactive textile installation 'Text und ilien' at Take Parcours during Take Festival Vienna Sophie Skach and Naa Teki Labar's textiles (pullovers) with embedded sensors...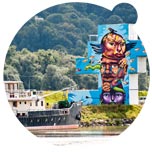 Art space Mural Harbor has started its boat trips 2017 The artists of 'Mural Harbor' at the Danube harbor in Linz, capital city of Upper Austria, introduce into the art of graffiti...

Gössl designer Maria Oberfrank reworked Augarten porcelain patterns for flower embroideries on clothing Augarten Porcelain Manufactory invited to its plalace in Vienna...

Vienna eating and drinking event series 'Markterei' teams up with fashion and design labels The weekly market 'Markterei' has scheduled events until June this year...

Fashionoffice SS2017 tip: Maritime Style 'Ahoy' is the title of the new Spring/Summer 2017 collection by Austrian label Lena Hoschek. The navy colored 'Sailor Jacket' with golden...

Jeans trends seen by Levi's during fashion weeks in London and New York on the streets Fashionoffice looked through the street style images captured by Levi's during...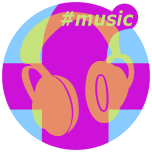 Top Ten Fashionoffice's FashionFeeds #music
Last 7 days: 'Dopamine' by Franc Moody; 'Where I Want To Go' by Roo Panes; 'Fuego' by Alok and Bhaskar; 'Feel It Still' by Portugal. The Man;...

Last 30 days: 'Genie' ft Mayer Hawthorne by Busy P; 'home' (Joywave rework) by morgxn; Dior 'Poison Girl' soundtrack 'No rebel' GENER8ION ft Tayla Parx;...


Selected Fashionoffice's SHORT MESSAGES from the temporarily published FashionFeeds (items can be found at the magazine's permanent, chronological archive on fashion.at/mobile).
10 Mar 2017 - #Music 'In the Morning' by Jaded (released today)
10 Mar 2017 - #Music 'Waterfall' ft P!nk and Sia by Stargate (released today)
9 Mar 2017 - Billboard premiere of 'Ocean' and interview with Goldfrapp, album 'Silver Eye' (31 Mar)
9 Mar 2017 - parismodesTV runway and interviews Louis Vuitton Women's FW 2017/18 during Paris Fashion Week
9 Mar 2017 - #Music 'Sweet' by Little Dragon, upcoming album 'Season High'; interview with BBC Radio 1
8 Mar 2017 - #Music 'Your Maker' (Anna Wise Remaker) by Gonjasufi, album 'Mandela Effect' (released today)
8 Mar 2017 - Adweek "W+K Explains What Unites Its Powerful Nike Women Ads Running in Russia, Turkey and the Middle East"