March 2017 - VII: Art on Round Objects.

Chart breaking musician Jain contributed the 'Zanaka' illustration of dancing children to a limited Swatch edition Jain and Swatch Creative Director Carlo Giordanetti...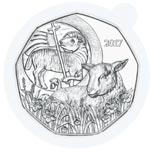 Austrian Mint presents Easter motifs: lamb and hare For Easter 2017, Austrian Mint designers created the silver and copper coin motif 'Spring Lamb'. The lamb stands for...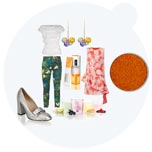 Fashionoffice SS2017 tip: Juicy Style The 'Juicy Style' is inspired by this year's floral fashion prints and derives its name from high-tech beverages, cosmetics and digitally...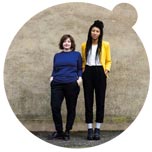 Interactive textile installation 'Text und ilien' at Take Parcours during Take Festival Vienna Sophie Skach and Naa Teki Labar's textiles (pullovers) with embedded sensors...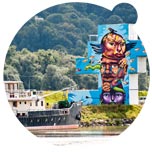 Art space Mural Harbor has started its boat trips 2017 The artists of 'Mural Harbor' at the Danube harbor in Linz, capital city of Upper Austria, introduce into the art of graffiti...

Creative workshop for phone video making at the exhibition 'Handyfilmen' The workshop for scholars, teachers together with artist Carla Degenhardt at Volkskundemuseum Vienna...

Puma X Minions release sports footwear, apparel in subversive sweet design for the whole family in June The three Minions Stuart, Carl and Kevin work creatively...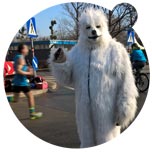 Vienna marathon running year 2017 has started Normally, Vienna's running events are scheduled in spring each year. Brand new is the Eisbärlauf (Ice Bear Run) series - next on 19 March...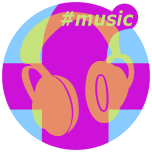 Top Ten Fashionoffice's FashionFeeds #music
Last 7 days: 'In the Morning' by Jaded; 'Don't Pass Me By' by Laura Marling; 'Your Maker' (Anna Wise Remaker) by Gonjasufi; 'Sweet' by Little Dragon;...

Last 30 days: 'Genie' ft Mayer Hawthorne by Busy; 'H&M Loves Coachella' ft The Atomics; 'Dopamine' by Franc Moody; 'Feel It Still' by Portugal. The Man;...


Selected Fashionoffice's SHORT MESSAGES from the temporarily published FashionFeeds (items can be found at the magazine's permanent, chronological archive on fashion.at/mobile).
15 Mar 2017 - #Music from SpotifyViralCharts 'Belle' Emma Watson, Luke Evans, Ensemble Beauty and the Beast (movie soundtrack)
15 Mar 2017 - #Music video 'Believer' by Imagine Dragons, from the upcoming new album
13 Mar 2017 - #Music video 'Did You Really Say No' ft Vanessa Paradis by Oren Lavie, 'Bedroom Crimes' LP (12 May)
13 Mar 2017 - Experts from US, RU, IT, ES, UK... at 'Fashion Futurum' conference about impact of science, technology on fashion (16-17 March, Moscow)