March 2017 - XI: Eco-Textiles. African Artists.

IXK designer Isabel Kibler's scarves are inspired by earth's nature, especially water and eco-dyeing Signature for the SS17 collection 'Postcards From The Future'...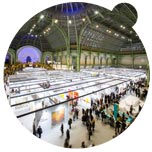 Art Paris Art Fair 2017 invited Africa as Guest of Honour and provides insights into the continent's cultural life Fashionoffice looked through the preview and found textile...

New Era 'Border Edge' men's wear pays homage to the culture of sport stadiums, famous teams, 90s streetwear Jeans blue, red, asphalt grey, black are the...

Fashionoffice Spring/Summer 2017 tip: Music Festival Style One item which shouldn't be missed - especially when the festival lasts several days at the desert, beach or mountains...

Fashionoffice Spring/Summer 2017 tips for urban bikers A favor of bikes in the design of a scooter - whether driven by electro battery or fuel tank, is that shoes keep clean...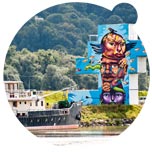 Art space Mural Harbor has started its boat trips 2017 The artists of 'Mural Harbor' at the Danube harbor in Linz, capital city of Upper Austria, introduce into the art of graffiti...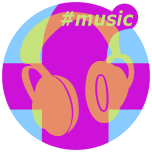 Top Ten Fashionoffice's FashionFeeds #music
Last 30 days: 'Don't Pass Me By' by Laura Marling; 'You Move' by Depeche Mode; 'Pleasure' by Feist; 'Running Wild' by Robert Parker;...

Last 7 days: 'You Move' by Depeche Mode; 'Pleasure' by Feist; 'Do I Have to Talk You Into It' by Spoon; 'Boyfriend (Repeat)' by Confidence Man;...


Selected Fashionoffice's SHORT MESSAGES from the temporarily published FashionFeeds (items can be found at the magazine's permanent, chronological archive on fashion.at/mobile).
27 Mar 2017 - #Music video in alliance with Comme des Garçons for debut single 'Samaritan' by ionnalee (singer Jonna Lee wears Comme des Garçons)
26 Mar 2017 - Campaign video for 'Only Made In Gabon' men's wear inspired by culture of Gabon, Central Africa
26 Mar 2017 - #Music 'Los Feliz (Blues and Greens)' by The Jesus and Mary Chain, album 'Damage and Joy' (out now)
26 Mar 2017 - #Music 'Teenage Fever' by Drake, album 'More Life'
25 Mar 2017 - #TopOnFashionoffice last 7 days, 25 March: Calzedonia presents new swimsuits and bikinis with beach campaign
24 Mar 2017 - Video exhibition tour (modeling, runway, publishing) 'Inspiring Beauty: 50 Years of Ebony Fashion Fair'
24 Mar 2017 - #Music 'We Got The Power' ft Jehnny Beth by Gorillaz, album 'Humanz' (28 Apr)
24 Mar 2017 - #Music 'Transient Program for Drums and Machinery' by Soulwax, LP 'From Deewee' (released today)