April 2017 - IX: Flowers in Fashion & Art.

Seen at Calzedonia SS2017: Flower fabrics for swimwear in vintage Copacabana, Rio de Janeiro style For the vintage swimwear, the designers were inspired by the beaches...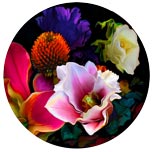 Digitally produced flower bouquets by René Twigge presented at the photo art gallery Lumas Vienna On occasion of Mother's Day, limited editions of photographic art...

Vienna Insight: Fabric retailer 'Komolka' is one of Europe's best addresses for dressmakers and costume designers Fashionoffice met CEO Herbert Komolka...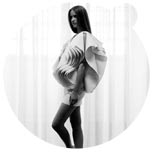 Launch of 'Austrian Center for Fashion Research' at Take Festival in Vienna The collaboration between University of Art and Design Linz and Academy of Fine Arts Vienna...

Barbara Alli supports with fashion label 'Hand Made Story' people in Ghana and opened pop-up store in Vienna Barbara Alli pays homage to African culture, zest for life...

Fashionoffice Spring/Summer 2017 tips for urban bikers A favor of bikes in the design of a scooter - whether driven by electro battery or fuel tank, is that shoes keep clean...

Fashionoffice SS2017 tip: Mother & Child street style
For walking with children through the city, Bike Vienna and Scooter Vienna sent tips for motivating kids to start...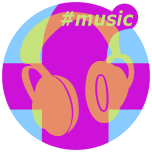 Top Ten Fashionoffice's FashionFeeds #music
Last 7 days: '3WW' by alt-J; 'Peak Magnetic' by Clark; 'Good Goodbye' ft Pusha T and Stormzy by Linkin Park;...

Last 30 days: 'Samaritan' by ionnalee; 'Tongue Tied' by Earl; 'Kill for Candy' by Dreamcar; 'Angels/Your Love' ft BJ the Chicago Kid by Mr Jukes;...


Selected Fashionoffice's SHORT MESSAGES from the temporarily published FashionFeeds (items can be found at the magazine's permanent, chronological archive on fashion.at/mobile).
20 Apr 2017 - #Music 'Lust For Life' ft The Weeknd by Lana Del Rey, title track of Lana Del Rey's upcoming album
20 Apri 2017 - #Music 'When Your Heart Is A Stranger' by Friends In Paris, forthcoming EP 'Hearts'