May 2017 - IV: Insights Venice, Vienna.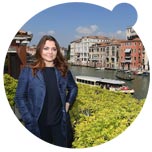 Venice Insight: Lavazza at Peggy Guggenheim Collection Francesca Lavazza at the Lavazza and Peggy Guggenheim Collection press conference on occasion of the start of the...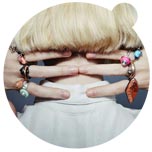 Vienna Insight: Jewelry collective 'Stoss im Himmel' part of the Wien Festival (23 districts on 23 days in June) The 'Wir sind Wien.Festival' (translated 'We are Vienna.Festival')...

R. Horn's for mint series on occasion of the 300th birthday of the ruler of the Habsburg empire Maria Theresia Maria Theresia was born on 13 May 1717 and is the country's...

Austrian designer Karl Michael applies art to fashion; seen at the fashion trilogy about cyber world at Take Festival The first part of the futuristic cyber story and fashion trilogy...

Artists, designers like Björk, Francis Bitonti at Vienna Biennale 2017 'Robots. Work. Our Future.' Digital fashion designer Francis Bitonti's 3D-printed 'Molecule Shoes'...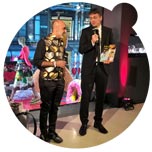 Swarovski presented first edition #01 of 'Kristallwelten Magazin' with Manish Arora
On occasion of the premiere of the stage settings of four windows by Manish Arora...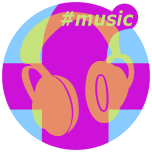 Top Ten Fashionoffice's FashionFeeds #music
Last 7 days: 'Godzilla' by Anna Lunoe; 'Sex Murder Party' ft Jamie Principle, Zebra Katz by Gorillaz; 'Roller Skates' by Nick Hakim;...

Last 30 days: 'Bofou Safou' by Amadou and Mariam; 'Godzilla' by Anna Lunoe; Gorillaz' 'The Apprentice' ft Rag'n'Bone Man, Zebra Katz, RAY BLK;...


Selected Fashionoffice's SHORT MESSAGES from the temporarily published FashionFeeds (items can be found at the magazine's permanent, chronological archive on fashion.at/mobile).
9 May 2017 - #Music video 'Die 4 You' by Perfume Genius, album 'No Shape' (out now)
8 May 2017 - #Music 'It's a Trip' by Joywave, sophomore album 'Content' (28 July)
8 May 2017 - #Music 'Sugar for the Pill' by Slowdive, self-titled album 'Slowdive' (out now)
8 May 2017 - Critical view on the world 'The Boat is Leaking. The Captain Lied.' at Fondazione Prada Venezia, 13 May - 26 Nov