July 2017 - VIII: Tribute To Femininity. Traveling Design Fair.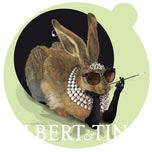 Albertina Museum's 'Albert & Tina' club pays tribute to femininity and balanced gender representations at DJ sets Albrecht Dürer's hare in Audrey Hepburn styling is...

Preview: Traveling fair blickfang in Vienna From 27 until 29 Oct, around 150 design labels (fashion, jewelry, furniture,...) such as Hungarian shoe company 'Dyan'...

Collaboration of molecular biology & art scientists and an apothecary at Vienna Design Week From 29 September until 8 October, the annual 'Vienna Design Week'...

adidas by Stella McCartney FW17 presented with virtual reality show in Tokyo and video starring Karlie Kloss The VR presentation staged dramaturgically the idea of...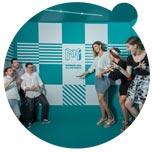 Vienna Insight: Opening of new 'Museum of Illusions' More than 70 installations are arranged to entertain and to make people understand that not everything we see is real...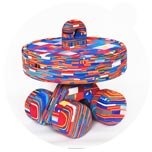 MKG Hamburg 'Pure Gold. Upcycled! Upgraded!' exhibition explores esthetics of recycling & design Objects like the 'Flip Flop' table display by Diederik Schneemann...

Celebration of 200 years of cycling at the exhibition 'Bicycles' mechanical innovations changed not only the way we are living together but initiated clothing...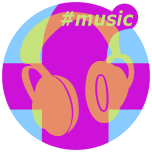 Top Ten Fashionoffice's FashionFeeds #music
Last 7 days: 'From Golden Stars Comes Silver Dew' ft Lalah Hathaway by Mr Jukes, 'Deadcrush' by alt-J; Van Halen's 'Right Now' by Classixx;...

Last 30 days: 'Give It To Ya' ft. ABRA by Josh Pan; 'Systematic' ft. Nas by DJ Shadow; 'Directions' by Ane Brun; 'Signs' by Drake;...

Selected Fashionoffice's SHORT MESSAGES from the temporarily published FashionFeeds (items can be found at the magazine's permanent, chronological archive on fashion.at/mobile).
26 July 2017 - Biographical documentary about professional kitesurfer Gisela Pulido incl. the early years as athlete
26 July 2017 - Great Big Story video portrait of big wave surfer Bianca Valenti
26 July 2017 - #Music 'The Lovers' by Nine Inch Nails, EP 'Add Violence' (out now)
25 July 2017 - #Music at SpotifyCharts USViral50 'Woman' ft The Dap-Kings by Kesha, album 'Rainbow' (11 Aug)