August 2017 - IV: Shopping!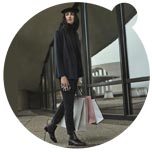 Humanic 3-D foot scanner and fashion-shoe-trends presentation at MQ Vienna Fashion Week From 12 to 17 Sept, the 'yourSize' foot scanner developed for on- and offline shopping...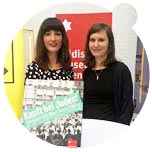 Vienna Insight: Exhibition 'Buy from Jews! Story of a Viennese store culture' at Jewish Museum The curators Astrid Peterle and Janine Zettl...

South Tyrolean mountain style at the new Luis Trenker store in Vienna South Tyrolean label Luis Trenker opened recently a new store in Vienna. It's the fifth own shop...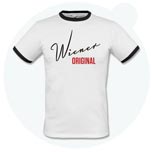 Vienna Insight: Where the city's lifestyle is produced; the 'Wiener Originale' tour
The writing on the t-shirt reminds at the first sight the Austrian saying...

MCA Chicago X artist Kerry James Marshall's MZ Wallace tote is inspired by the critical view on the (art) system Kerry James Marshall's work throws light on the history of...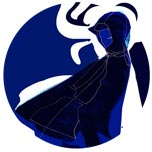 'H&M Studio AW17 x colette' collection shows hand-painted graffiti and is inspired by the streets of New York Main color of the feminine designs with punk...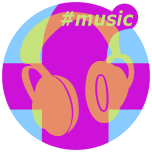 Top Ten Fashionoffice's FashionFeeds #music
Last 30 days: 'Electric Blue' by Arcade Fire; 'Nuggets' ft Bonzai by Mura Masa; 'From Golden Stars Comes Silver Dew' ft Lalah Hathaway by Mr Jukes;...

Last 7 days: 'Alala' by Populous; 'Moment' by King Henry and Rhye; playlist 'G-Mix: 2D' by Gorillaz; video 'England Lost' by Mick Jagger;...

Selected Fashionoffice's SHORT MESSAGES from the temporarily published FashionFeeds (items can be found at the magazine's permanent, chronological archive on fashion.at/mobile).
12 Aug 2017 - #Music 'Cherry' by Lana Del Rey, album 'Lust For Life'
11 Aug 2017 - #Music 'Up The Creek' by Tori Amos, album 'Native Invader' (8 Sept)
11 Aug 2017 - #Music 'Taken Care Of' by Suzi Wu
9 Aug 2017 - Forbes "12 Of The Best Fashion Films of 2017' like Casamorati for 'Best Costume' about a woman of the 1920s
9 Aug 2017 - Google Arts & Culture: Mariano Fortuny's revolutionary (body liberating) gown 'Delphos'
9 Aug 2017 - #Music video 'LMK' by Kelela, debut album 'Take Me Apart' (6 Oct via Warp Records)
8 Aug 2017 - #Music video with dancer Wagner Schwartz 'Niños Matadores' by Krikor Kouchian, album 'Pacific Alley' (2 Oct)