August 2017 - IX: Art. Language. Technics.

Fashionoffice autumn 2017 tip: Inspired by graphical art!
With clothing, shoes, jewelry, beauty like the lip powder by Clinique, remixable items by Swarovski,...

Insight into the program of the gallery festival 'curated by_vienna' dedicated to language and art in the digital era From 15 September to 14 October...

'Post-Couture Vienna' by Post-Couture Collective X meshit live from the laser cutter at Qwstion store Vienna For around one week from 15 September,...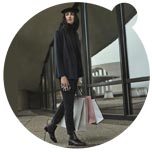 Humanic 3-D foot scanner and fashion-shoe-trends presentation at MQ Vienna Fashion Week From 12 to 17 September at the main tent of MQVFW, the Austrian shoe...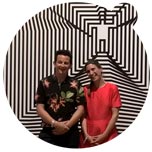 'Hello, Robot.' exhibition about art, design, architecture at Vienna Biennale Fredo de Smet (Design museum Gent) and Amelie Klein (Vitra Design Museum) curated...

Vienna-based design label Callisti announces 10th anniversary show at MQ Vienna Fashion Week On 14 September, Austrian designer Martina Müller...

Wien Museum exhibits Viennese fashion and lifestyle at Google Arts & Culture The virtual show at the 'We Wear Culture'-project is a costume historical tour...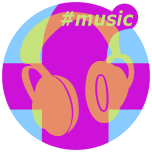 Top Ten Fashionoffice's FashionFeeds #music
Last 7 days: 'The Ghost of the Chateau Marmont' by Lady Rizo; 'No Where to Run/Bandits' by UNKLE; 'Baby, What You Want Me To Do' by Elvis Presley;...

Last 30 days: 'Niños Matadores' by Krikor Kouchian; 'LMK' by Kelela; 'Blk & Wht' by Zebra Katz; 'Havana' by Camila Cabello;...

Selected Fashionoffice's SHORT MESSAGES from the temporarily published FashionFeeds (items can be found at the magazine's permanent, chronological archive on fashion.at/mobile).
26 Aug 2017 - #Music 'About a Bruise' by Iron & Wine, album 'Beast Epic' (out now)
26 Aug 2017 - #TopOnFashionoffice last 7 days, 26 Aug: "The sheep's illumination is a fake!" by Karin Sawetz, publisher Fashionoffice;...
25 Aug 2017 - #Music 'Domesticated Animals' by Queens of the Stone Age, album 'Villains' (released today)
25 Aug 2017 - CNN Style "How artificial intelligence and robots can change your living spaces"
25 Aug 2017 - Exhibiton 'Virtual Reality Art' at Faurschou Foundation Beijing (27 Aug 2017 - 3 Feb 2018)
25 Aug 2017 - Adweek "Peter Dinklage Contemplates Our Hyperconnected World in This Epic Ad From Cisco"
25 Aug 2017 - #Music 'Wonderful Wonderful' by The Killers, title track of the new album (22 Sept)
24 Aug 2017 - MIT Technology Review "Amazon Has Developed an AI Fashion Designer"
24 Aug 2017 - #Music 'Everybody's Someone in LA' by nite swim