September 2017 - VII: 18th to 21st Century.

Vienna insight: Luis Trenker store is inspired by alpine culture and 30/40ies film ...explained founder and CEO Michi Klemera. The interior's solid wood in matte black, white walls and...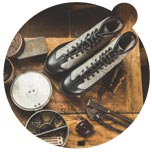 18th century Ausseer loden shoe crafts inspired Dachstein designer Christoph Döttelmayer for new alpine boots The new 'Bergwerk' boot from the 'Alpine Lifestyle'...

H&M Design Award 2017 winner Richard Quinn's 50/60s, 80s inspired looks will be available in London and online Richard Quinn studied at Central St Martins...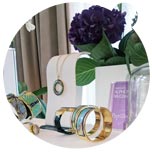 Freywille presented 3 premieres: Jewelry without art pattern, rosé gold items and a perfume duo composed to harmonize between him and her. Fashionoffice took snapshots...

'Woman in Gold' by Kilian pays homage to Gustav Klimt's portrait of art patron Adele Bloch-Bauer The glamorously shining fragrance-time-travel premieres on...

Wash bags with 19th/early 20th century inspired prints by British stationery and gift brand 'Chase and Wonder' The wash bags 'Flower Lady' and 'Manners Maketh Man'...

'The Fight for the Castle' by Fashionoffice publisher Karin Sawetz Currently, the rally for getting the people's votes at the legislative election on 15 October is in full speed...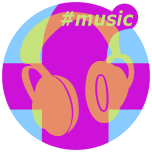 Top Ten Fashionoffice's FashionFeeds #music
Last 7 days: 'Better Sit Down Boy' by Confidence Man; 'Fantasy' by George Michael, Nile Rodgers; Jamie xx remix of 'On Hold' by The xx;...

Last 30 days: 'Running Wild' ft Mina Rose by Tricky; 'Wasted Acres' by Grizzly Bear; 'Bad Ones' ft Tegan and Sara by Matthew Dear;...


Selected Fashionoffice's SHORT MESSAGES from the temporarily published FashionFeeds (items can be found at the magazine's permanent, chronological archive on fashion.at/mobile).
22 Sept 2017 - #Music video with Kendall Jenner, wardrobe Carine Roitfeld 'Enchanté (Carine)' ft. Axl Jack by Fergie, album 'Double Dutchess' (released today)
21 Sept 2017 - #Music video 'Deadly Valentine' by Charlotte Gainsbourg, album 'Rest' (17 Nov)
21 Sept 2017 - #Music 'Ask Me To Stay' by Jessica Boudreaux (of Summer Cannibals), debut solo LP 'No Fury' (3 Nov)
20 Sept 2017 - Video "Vogue's Anna Wintour Reflects on London Fashion Week Spring 2018"
20 Sept 2017 - Anouk Wipprecht about her fashion-tech dress, on view until 1 Oct at 'Hello, Robot.' exhibition at MAK during Vienna Biennale
20 Sept 2017 - #Music street dance video 'Get Low' by Zedd and Liam Payne in the streets of London
20 Sept 2017 - #Music 'Spent the Day in Bed' by Morrissey, album 'Low In High School' (17 Nov)
19 Sept 2017 - #Music Beatles' cover 'Come Together' by Gary Clark Jr., used for trailer 'Justice League' (movie release Nov)