January 2018 - II: Parachute Dress. Geographical Map.

Art questioning fashion and everyday culture at 'Sabine Ott - Frozen Performance' at Galerie Michaela Stock The parachute dress from the photo series by Alexandra Eizinger...

Fashionoffice's geographical map is continued by this year's first location related entries The first layer of the Fashionoffice Map was created in 2009/10. Now, the map...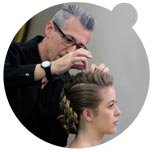 Artistic team of Bundy Bundy created a braided updo ...with crystallized clef for debutantes of the Vienna Philharmonic Ball opening dance conducted by Placido Domingo...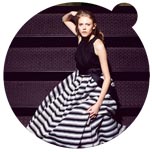 Vienna-based Callisti presents festive red carpet looks Vienna is known for its balls and festive events. Callisti gowns are signature for the city's style. On 16 January at MBFW in Berlin,...

Wiener Kaffeesiederball 2018's art fan 'We Danced. And We Danced Close.' ...presented by managing director Anna Karnitscher and artist Jakob Kirchmayr...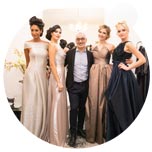 Maurizio Giambra presented ball gowns in front of guests from the Austrian entertainment business Vienna-based Italian born Maurizio Giambra...

H&M announces extension of the collaboration with Alibaba's Tmall and release of 'G-Eazy x H&M' men's wear The new collaborative collection with hip-hop rapper G-Eazy...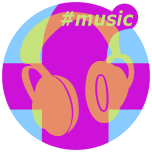 Top Ten Fashionoffice's FashionFeeds #music
Last 30 days: 'Campfire' by DRAM & Neil Young; 'Tonya Harding' by Sufjan Stevens; 'Lifting You' ft. Ed Sheeran by N.E.R.D.;...

Last 7 days: 'Snakes' by Deva Mahal; James Blake cover of Don McLean's 'Vincent'; Kaskade remix of 'Stargazing' ft. Justin Jesso by Kygo;...


Selected Fashionoffice's SHORT MESSAGES from the temporarily published FashionFeeds (items can be found at the magazine's permanent, chronological archive on fashion.at/mobile).
7 Jan 2018 - #Music dancing robot video 'Filthy' by Justin Timberlake, album 'Man Of The Woods' (2 Feb)
6 Jan 2018 - #TopOnFashionoffice last 7 days, 6 Jan: Television broadcast of the Vienna Philharmonic New Year's Concert 2018...
5 Jan 2018 - #Music 'Tell Me' by Joan As Police Woman, album 'Damned Devotion' (9 Feb)
4 Jan 2018 - Sportswear International interview with Karl Wehner, managing director of Germany, Switzerland, Austria, Eastern Europe and Turkey at Alibaba Group