January 2018 - IV: Dancing Shoes. Wearable Technics.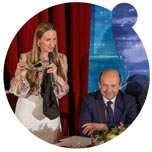 Dance friendly golden ballerinas by Humanic available at Vienna Opera Ball Ball organizer Maria Grossbauer and Wiener Staatsoper director Dominique Meyer...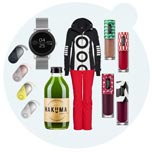 Fashionoffice tip: Fashion, beauty, wearable technics (recently presented at CES) for an active lifestyle Recently at CES 2018, Sony presented the wireless sports headphones...

Works by young artists seen at the preview of Art Innsbruck 2018 (25 - 28 January in Tyrol, Austria) ...like the painting 'Tra le mie nuvole' by Elisa Anfuso...

Fashionoffice's geographical map is continued by this year's first location related entries The first layer of the Fashionoffice Map was created in 2009/10. Now, the map...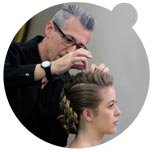 Artistic team of Bundy Bundy created a braided updo ...with crystallized clef for debutantes of the Vienna Philharmonic Ball opening dance conducted by Placido Domingo...

Art questioning fashion and everyday culture at 'Sabine Ott - Frozen Performance' at Galerie Michaela Stock The parachute dress from the photo series by Alexandra Eizinger...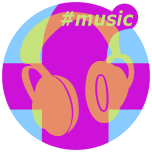 Top Ten Fashionoffice's FashionFeeds #music
Last 30 days: 'God Save Our Young Blood' ft. Lana Del Rey by BØRNS, album 'Blue Madonna'; 'Pig' by Clark, from the 'Honey Badger / Pig' single;...

Last 7 days: 'Feel the Love Go' by Franz Ferdinand; 'Everybody's Coming to My House' by David Byrne; 'Filthy' by Justin Timberlake;...


Selected Fashionoffice's SHORT MESSAGES from the temporarily published FashionFeeds (items can be found at the magazine's permanent, chronological archive on fashion.at/mobile).
14 Jan 2018 - Milan Fashion Week: active wear inspired urban citizens' fashion with kimono-like half-sleeves seen at Prada AW18 men's, women's fashion show
14 Jan 2018 - ParismodesTV from Milan Fashion Week: Moschino AW18/19, interview with Jeremy Scott, speaks about concepts of menswear and womenswear
14 Jan 2018 - CNN 'Colorscope' series, 'The complicated gender history of pink' - statements by Valerie Steele (Museum at FIT), Leatrice Eiseman (Pantone Color Institute),...
13 Jan 2018 - #Music 'We Don't Care' by BØRNS, album 'Blue Madonna'
13 Jan 2018 - #TopOnFashionoffice last 7 days, 13 Jan: Singer and drag artist Conchita Wurst (aka Tom Neuwirth) represents this year's Life Ball theme 'The Sound of Music...
12 Jan 2018 - Photo series of people's styles at Pitti Uomo (9 - 12 Jan) in Firenze
12 Jan 2018 - Vogue Videos, Serena Williams dancing to N.E.R.D.'s 'Lemon' ft. Rihanna at airport runway
12 Jan 2018 - #Music title track of the upcoming album 'Shape The Future' by Nightmares On Wax (album release 26 Jan)
12 Jan 2018 - #Music cover of Talk Talk's 'Life's What You Make It' by Joywave, exclusive Spotify single
12 Jan 2018 - #Music 'Portrait I' by The Howl & The Hum (released today)
11 Jan 2018 - #Music dance video 'Get It Right' ft. MØ by Diplo
11 Jan 2018 - Kenzo Spring/Summer 2018 fashion, film, music project 'YO! MY SAINT' directed by Ana Lily Amirpour, original music by Karen O ft. Michael Kiwanuka
11 Jan 2018 - Video 'French Lessons' directed by Kevin Castanheira for US-based fashion brand 'Free People'