February 2018 - IX: Women's Activities.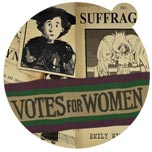 International 'Tricky Women' festival focuses on political and documentary animation films ...such as 'Who was Emmeline Pankhurst?' by British director Katie Steed...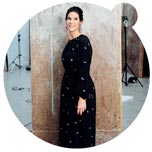 Vienna-based internationally distributing organic babycare label 'Alma' expands via drugstore chain and eCommerce Isabel Zinnagl, founder of the certified...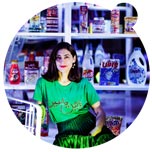 Fashion jewelry designer Shourouk Rhaiem ...embellished supermarket goods with crystals for 'Ordinary Life' exhibition at Swarovski Kristallwelten Store Vienna...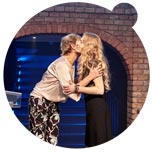 Couture label ZOË by Inge Cecka received 'Austrian Wedding Award 2018' ...in the category 'Best Wedding Gown Design'. The award was founded by a wedding planner...

Art questioning fashion and everyday culture at 'Sabine Ott - Frozen Performance' at Galerie Michaela Stock The parachute dress from the photo series by Alexandra Eizinger...

Anna's is a seasonal food service ...founded by Anna Abermann. Selected fruits, vegetables, meat, fish, bread,... from mainly regional Austrian farmers in bio-gourmet boxes...

Fashionoffice recipe SS18: Mixed vegetable salad The ingredients for this salad recipe can be found in supermarkets; in many cases they are from regional farmers...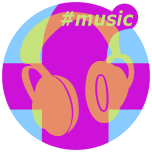 Top Ten Fashionoffice's FashionFeeds #music
Last 7 days: 'Ta Meilleure Ennemie' ft. Juliette Armanet by Samantha Gongol; 'Foreign Affair' by Garden City Movement; 'An Acre of Land' by PJ Harvey and Harry Escott;...

Last 30 days: 'Heute Will Ich Frei Sein' by German photographer Wolfgang Tillmans; 'Surface to Air' ft. Self Esteem by Django Django; 'Finally' by Franz Ferdinand;...


Selected Fashionoffice's SHORT MESSAGES from the temporarily published FashionFeeds (items can be found at the magazine's permanent, chronological archive on fashion.at/mobile).
28 Feb 2018 - Quartz at Work "This calculator puts a dollar value on the invisible, unpaid work done by women"
28 Feb 2018 - #Music video (gender pay gap, feminism) '77' by Alice Bag, album 'Blueprint' (23 March)
27 Feb 2018 - Paris FW: Dior FW18/19, Maria Grazia Chiuri celebrates 50th anniversary of revolutionary year 1968, women's rights movement
27 Feb 2018 - Vice reporter, musician (Yacht) Claire L. Evans' 'Broad Band - The Untold Story of the Women Who Made the Internet' (Ada Lovelace, Grace Hopper, Stacy Horn,...), release 6 March
27 Feb 2018 - FashionUnited "Anna Dello Russo withdraws fur coats from auction"
26 Feb 2018 - Google Arts & Culture with National Trust for Historic Preservation: Article about Pauli Murray (LGBT, women's rights activist)